AirWave Setup
How It Works
94 of the 100 most popular television programs are available for free over-the-air.
AirWave sends over-the-air (OTA) broadcast television and over-the-top (OTT) streaming video channels to compatible streaming devices on your home network. With the free Mohu TV app, you can enjoy these free live, local and streaming TV programs on your phone, tablet or television through a familiar, user-friendly program guide.

What's in the Box
Antenna
The AirWave Antenna is specifically designed to connect with the AirWave Power Bridge.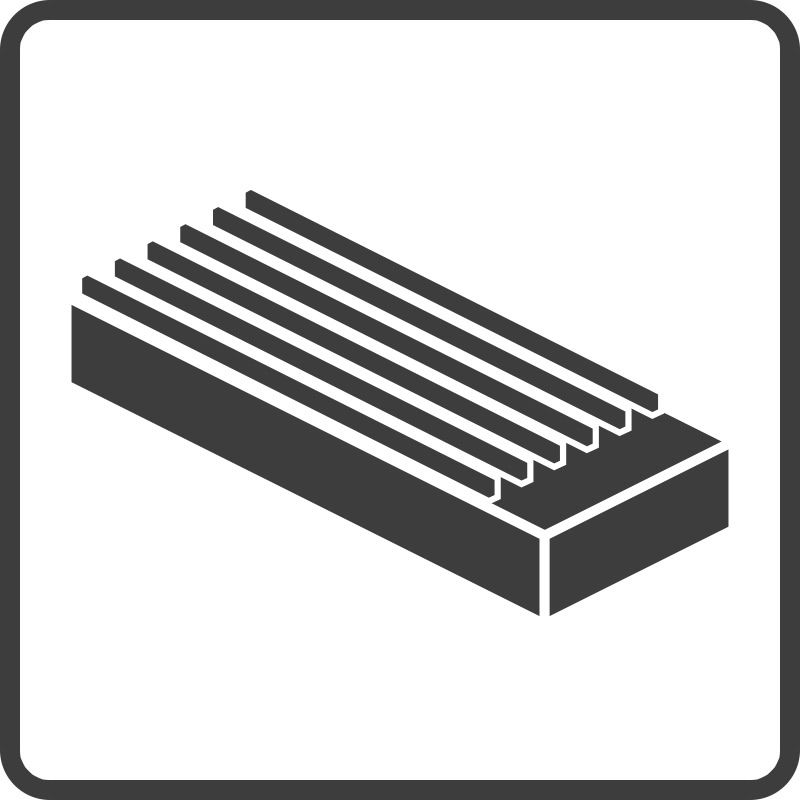 Power Bridge
The Power Bridge receives over-the-air TV signals from the Antenna and sends them to your streaming device.
Power Cable
Supplies power to the Power Bridge. Power AirWave with supplied power cable only.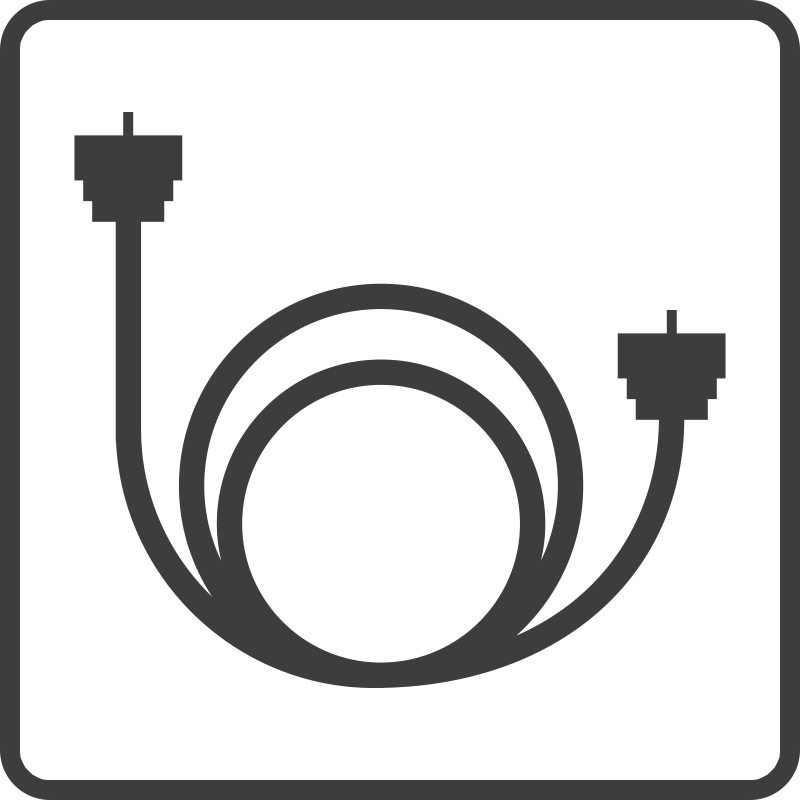 Coaxial Cable
Connects the Antenna to the Power Bridge. Already connected to the antenna out-of-the-box.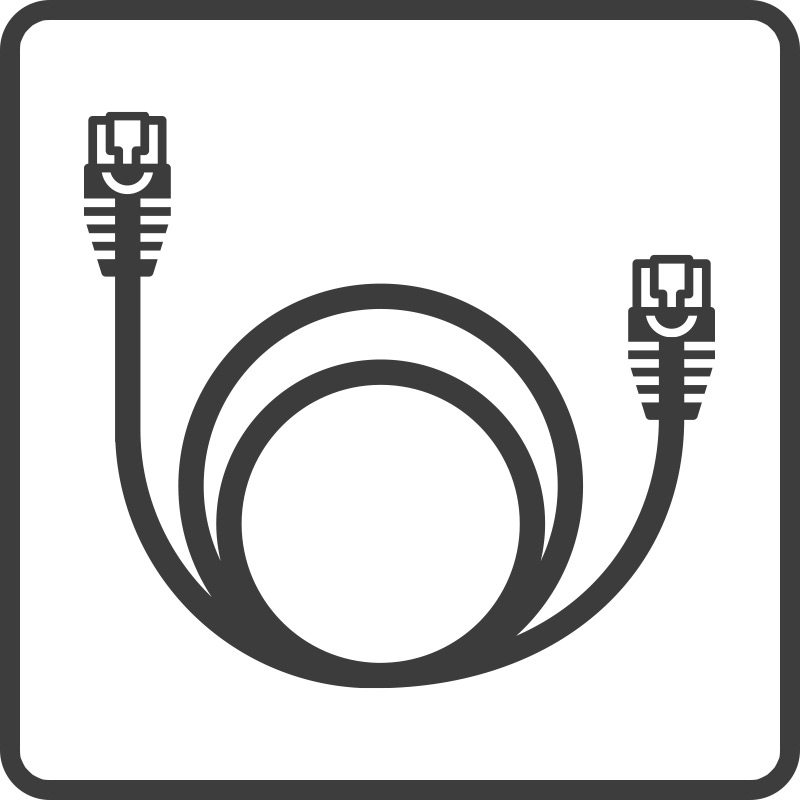 Ethernet Cable
Connects the Power Bridge to your router. Not required if connecting AirWave to your home network over WiFi.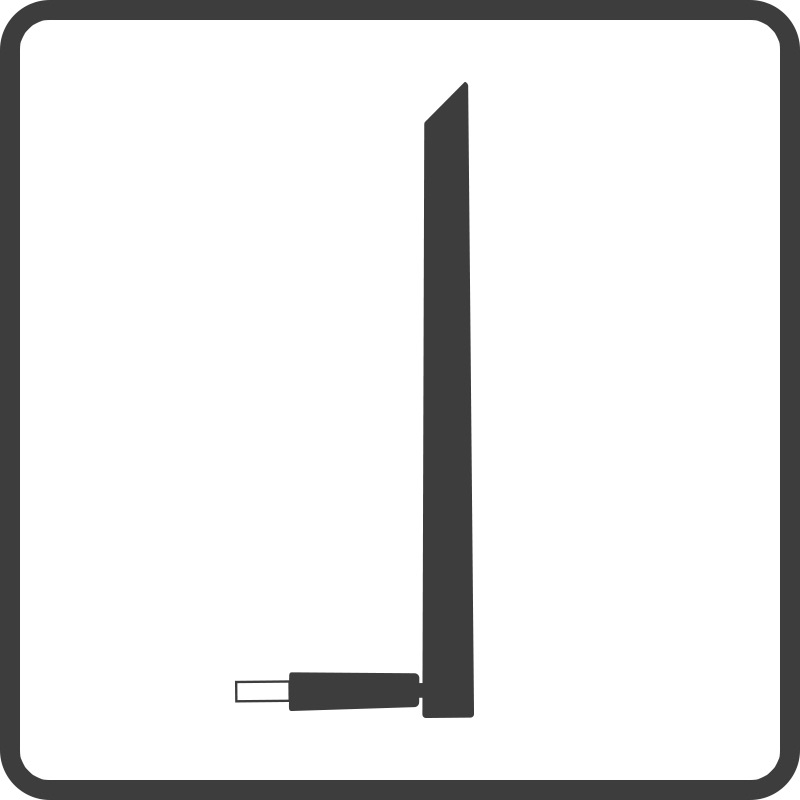 WiFi Adapter
Connects to the Power Bridge to provide a WiFi connection for sending streaming data to devices.
---
1. Set Up AirWave Components
a. Connect AirWave Antenna
Your AirWave Antenna comes with a coaxial cable attached. Connect the other end of the coaxial cable to the AirWave Power Bridge.

b. Connect To Router and Power Outlet
Plug your AirWave into your router using the included Ethernet cable. Using the power cable supplied, plug the AirWave Power Bridge into a power outlet.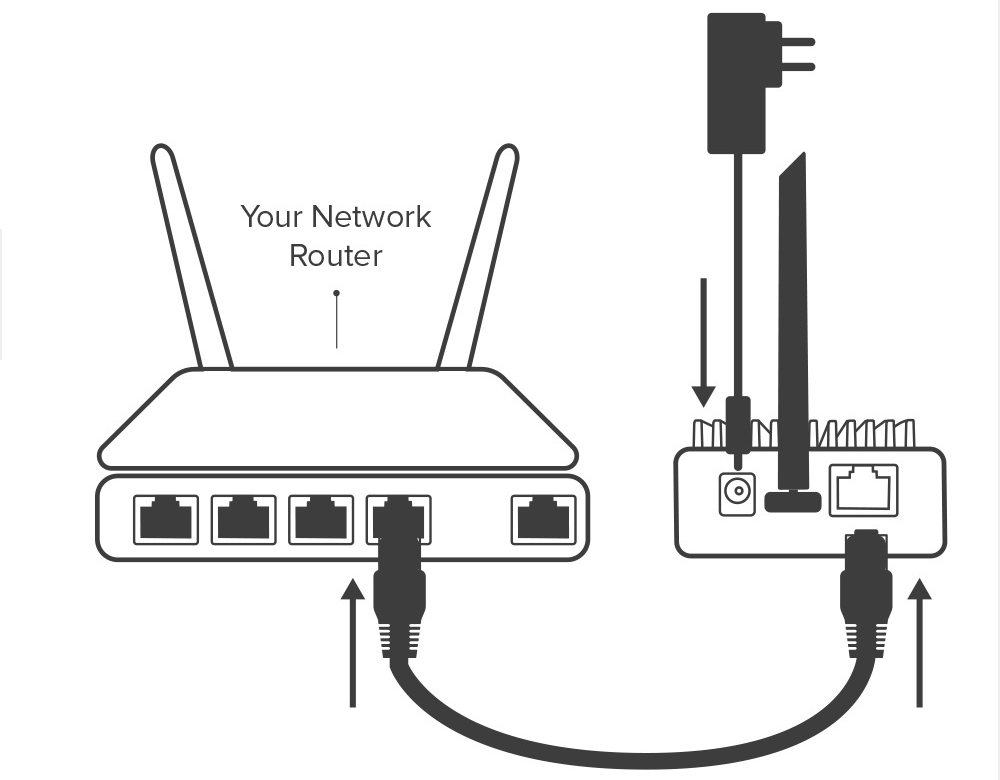 2. Install Mohu TV App

The Mohu TV App is available for free download and is compatible with Amazon Fire TV, Apple TV, Roku, iOS, and Android devices.
a. Check App Availability
Visit www.gomohu.com/apps to make sure the app is available for your streaming device.
b. Download Mohu TV
Roku Users:
The Mohu TV app is compatible with Roku devices, including Roku TVs.
Log in to your Roku device
Open the Channel Store on your device
Search for "Mohu TV"
Download the Mohu TV App for free (you can view it here online as well)
Fire TV and Apple TV Users
Log in to your streaming device
Open the App Store
Search for "Mohu TV"
Download the Mohu TV App for free
Android and iOS
Visit www.gomohu.com/apps and select the link to your platform. This should open the Mohu TV on your device's app store.
3. Get Started With Mohu TV
a. Complete Initial Mohu TV App Setup
Open the Mohu TV app on your streaming device and follow the setup prompts.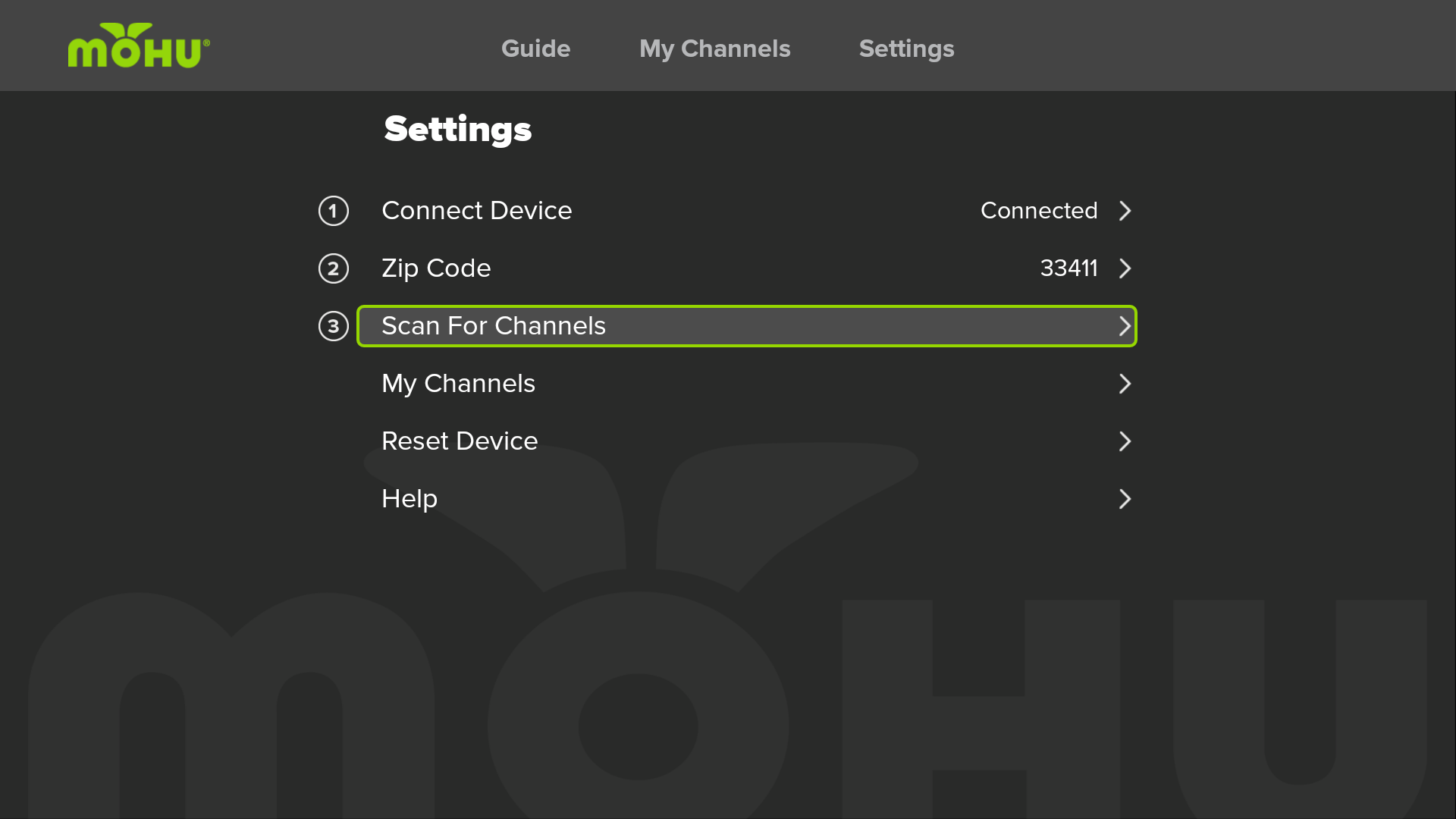 You will need to complete a channel scan before content is available in the Mohu TV Guide.
b. Enjoy Mohu TV
Select the "Guide" menu option to view and access content.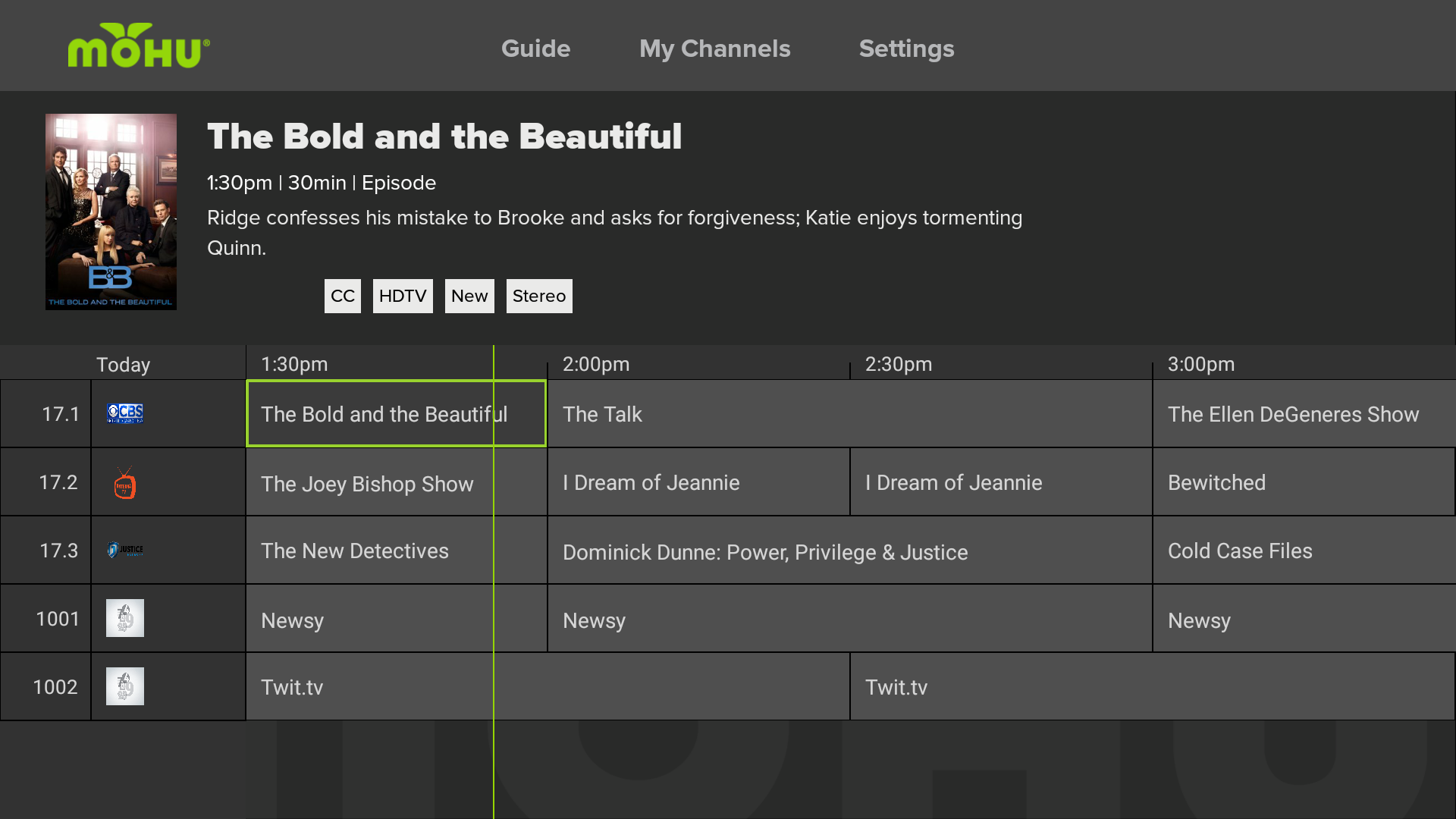 Mohu TV's Guide gives you access to channels your antenna receives over-the-air, as well as a variety of free streaming channels.
My ChannelsUse the "My Channels" menu option to quickly access your favorite content.
Changing ChannelsTo change the channel, use your streaming device's "Back" button to return to the Guide where any new channel can be selected.
ClearPix ConfigurationsClearPix is the technology that automatically detects the best internal antenna configuration for each channel.
During the channel scan AirWave checks multiple ClearPix configurations in order to determine the best signal for each individual channel. Since many factors such as physical obstructions and weather changes can affect antenna performance, however, you may at times want to try an alternate ClearPix configuration when your reception is subpar.
You can try another ClearPix setting when viewing a channel by clicking the alternate "ClearPix" button. This sets the signal for each channel individually. Wait a few seconds for the signal to change before deciding which ClearPix setting is best for that channel.
4. Find the Right Location for Your AirWave
a. Place Antenna in Clear Path to Tower
Generally, the antenna performs best with the clearest path possible to broadcast towers. Ideal placement tends to be higher up, near windows, and away from metal objects.
Click here if you do not have access to your router (this is uncommon).
Click here if you are using any other antenna besides the included AirWave Antenna.