In the world of Olympics sports, a lot can happen in a week! If you haven't been paying attention to the Quadrennial event that is the Winter Olympics in the last week, then there is quite a lot that you have missed.
To help get you up to speed, we have put together a quick rundown of what happened in Week 2. And if you don't want to miss another minute of the Winter Olympics, now is the time to pick up an over-the-air antenna.
Medal Count
Before we get into the highlights from this week, let's take a quick look at the medal count as of 2/22/18.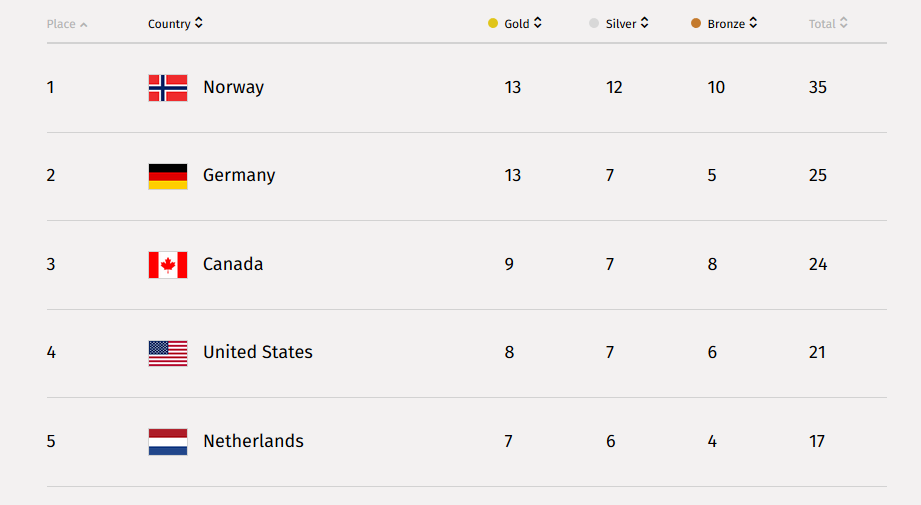 Norway is currently leading with 13 Gold Medals, 12 Silver, and 10 Bronze; totaling to 35 medals in all. Germany comes in close second with 13 Gold Medals, 7 Silver, and 5 Bronze; totaling 24 medals in all. Canada is in third place with 9 Gold Medals, 7 Silver, and 8 Bronze; totaling 24 medals in all. Finally, the United States is fourth in the medal count with 8 Gold, 7 Silver, and 6 Bronze; totaling 21 medals in all.
Now let's a take a look at some of the highlights from this week:
Nathan Chen Makes History
Until last week, it looked like US Olympic Skater Nathan Chen's first appearance at the Olympics was going to be a bust. In his first two performances, Chen fell completely flat and it didn't look like he was going to be able to pull it together. But in the Men's Free Skate gave an impressive performance and became the first male figure skater to land five quads. He may not have won a medal for the performance, but Nathan Chen definitely secured his place in the history books.
Wardrobe Malfunction Goes Viral
On Monday, the internet was abuzz over an embarrassing moment involving French figure skaters Gabriella Papadakis and Guillaume Cizeron. During the Ice Short Dance, Cizeron dipped Papadakis a little too low; allowing Papadakis'  halter neck dress, which broke during the performance, to slip and expose her breast to the audience and millions of viewers at home. Despite the embarrassment, Cizeron and Papadakis were still able to take second in the event.
America Wins First Gold in Women's Cross Country Skiing
Kikkan Randall and Jessie Diggins made history last week by becoming the first American team to take the Gold Medal in Women's Cross Country Skiing. The American duo won by a hair, beating out Sweden by only 0.19 seconds and third place Norway by 3 seconds. The only other American to win a medal in Cross Country Skiing is Bill Koch, who won Silver 42 years ago at the Innsbruck Games.
US Women's Hockey Team Wins Gold
In a rematch for the ages, the US Women's Hockey Team beat out 3-2 Canada to take the Gold after losing to the team in an earlier match… This is the first time the US has won Gold in Women's Hockey since 1998. Before this recent victory, the closest the US women's team came to winning the Gold was when it lost Canada in the 2014 Sochi Olympics.
Upcoming Events
As the Winter Olympics comes to a close this weekend, there are plenty of exciting medal events to keep track of; including Alpine Skiing, Snowboarding, and everyone's favorite Olympic sport: Curling. And don't forget about the closing ceremony on Sunday!
Which Olympic event are you most excited for? Let us know in the comments below or sound off on social media!