Why battle the crowds to find deals on holiday gifts? You can shop from the comfort of your home watching HSN and QVC, available for free over air with your Mohu antenna!
I love holiday shopping, but I loathe having to go out in the cold, locate a parking space, and brave crowds in a store, only to learn that they have sold out of a sale item I had hoped to purchase.
To eliminate this cause of holiday stress, I simultaneously watch QVC and HSN over the air using my Curve 50 Indoor Amplified HDTV Antenna and my laptop.  I watch one channel via my over-the-air antenna, and the other I watch via their website.  (I call it constructive multi-tasking and my family calls it crazy. It's probably a little bit of both!)
The desire to score deals on top name brand items is the main reason viewers watch QVC and HSN , but both networks also offer cord cutters free over-the-air entertainment throughout the year in the form of product demonstrations and tutorials.
QVC Makes Holiday Shopping Fun & Easy
Broadcasting in six countries via cable, satellite and over-the-air, QVC programming is wildly popular for its informative and entertaining product presentations. Special bundles, gift wrap options and holiday pricing make holiday shopping from home a breeze!
What I like most about QVC is the ability to see products being used before I buy them. The hosts make the demos fun and interesting, and sometimes just too tempting to pass up! Radio controlled toys, electronics, fitness equipment and crafting items are some of my favorite products shown on QVC, as well as kitchen gadgets and holiday food items.
The QVC Program Guide is an easy way to track a QVC host's activity and check what's coming up on the programming schedule at a glance by date, time zone and channel.  You can adjust the guide to view one day or the whole week. You can also set reminders to be sent to you via email so you won't miss your favorite host or product lines.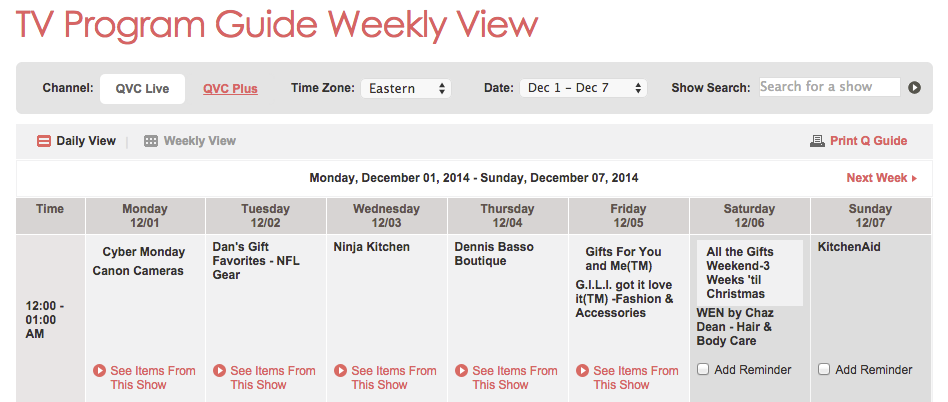 Two of my favorite QVC hosts are David Venable and Jill Bauer.
I'm particularly fond of 'In the Kitchen with David' segments. David provides viewers with great recipes , kitchen how-to tips, and the heads up on quality cooking products.
'You're Home with Jill' segments are wonderful for learning  new things related to cooking, decorating and entertaining.
QVC isn't available over-the-air in all areas of the US, but it can be found in high definition (1080i) on subchannels in select markets including the following:
If you can't get QVC over air, but you have internet service, you can go to the QVC site and click 'Watch Live TV' on the left hand side of the homepage.  QVC broadcasts 24 hours a day, 7 days a week with the exception of Christmas Day when it airs a pre-recorded holiday show.
Holidays Happen at HSN
Another free over-the-air shopping channel in high definition is HSN.  Dedicated to offering quality products at great prices to at-home shoppers, HSN showcases well known brands right along side 'As Seen On TV' products.  The highly diverse product offerings on HSN make it a great place to shop for everyone on your holiday gift list!
To discover if HSN is available over air in your area, use the HSN Channel Finder.
If HSN isn't available, all is not lost!  A free alternative to over air HSN broadcasts can be found online. Go to the HSN website to view the live stream via the WATCH link on the top of the page. Alternatively you can download the HSN app to view content on your iOS or Android devices.
Both HSN and QVC offer cord cutters awesome over-the-air free TV entertainment, as well as a fabulous way to shop stress-free for great gifts to give this holiday season.
Andrea Polk hails from Oregon and is a wife, mother, writer, Amazon Top 50 Reviewer, and more. She's also the author of the Simple Guide to Over-the-Air Free TV as well as the avid deal-seeker behind SavvySleuth.com, where she scours the web for the best online deals.