If you are contemplating cutting the cord, the Leaf 30 HDTV indoor antenna is a smart choice! It's flat, simple design is easy to place in any room, either vertically or horizontally, without any negative effects on the Leaf 30's performance. Because it's multidirectional, obtaining over-the-air signals from all directions, it doesn't have to be pointed or angled in any one direction. It can be hidden from view or displayed where it's sure to be a conversation piece.
The Leaf 30, Leaf 50 and Leaf Metro antennas are all reversible. Black on one side and white on the other. But that's not the cool part.  Did you know you don't have to keep it that way?  If you want to paint your Leaf 30 to match your decor, you can!  A great option for aesthetic loving cord cutters who want to integrate their Leaf antenna into any style room.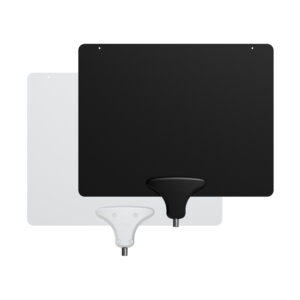 Product Overview
The Leaf 30 is budget priced at a mere $39.99, but offers consumers a powerful way to cut the cord.  For the cost of dinner out, you can get a remarkably advanced piece of equipment that utilizes military-grade technology to obtain over air broadcast channels in both standard and high definition. VHF channels can be obtained from up to 10 miles with the UHF range of this antenna capable of pulling in programming from as far away as 30 miles. Made in the USA, the Leaf 30 works in Canada too!
If you want to see Mohu Leaf antennas in action, be sure to read:  Why the Mohu Leaf is Awesome According to Cord Cutters.  There are lots of video links to video reviews by real Leaf antenna users, showing you how well the Leaf antennas work at their locations.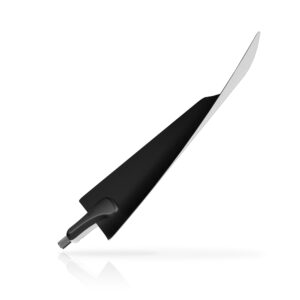 The Leaf 30 isn't complicated to setup or use, and works perfectly to pull in free over air TV signals, making it a cord cutter favorite that may be perfect for you too. You can plug in your zip code to get an estimate of the channels you could receive with the Leaf 30 (and all of the other Mohu antennas) or contact Mohu customer support for a detailed channel analysis based on your full address. No matter which antenna you go with, be mindful of the following factors that affect all over air TV reception, no matter where you live or what OTA antenna you choose.
User Considerations
Weather
All over air antennas are subject to fluctuations in weather.  Rain, wind, and snow can affect your reception no matter what antenna you choose.
While this can be a frustrating thing to deal with, especially in severe weather, it's a rare occurrence and something that can often be overcome by simply moving the antenna and re-scanning for channels.
Terrain
In an ideal over air antenna scenario, you would live in a flat area with broadcast towers in sight of your location. Since most of us don't live in that ideal situation, terrain can be a factor with respect to channel reception.
It's possible to overcome some issues with terrain by using a Mohu Jolt Digital Antenna Amplifier. Adding the Jolt amplifier to your coaxial cable can assist the Leaf 30 in fine tuning its signal reception and clearing up pixelation.
Placement
A key factor in over air channel reception is antenna placement at your location.
Placing your Leaf 30 as high as possible is best. In a window, on a shelf, or behind the TV will all work, but you may have to try multiple placements with subsequent channel scans to find just the right placement to obtain all the broadcast channels in your area. Be mindful of metal objects in close proximity as this can also impact reception.
Inexpensive, yet powerful technology with the ability to blend seamlessly into the background, and bring free TV in high definition to your home.
That's the Leaf 30.
Andrea Polk hails from Oregon and is a wife, mother, writer, Amazon Top 50 Reviewer, and more. She's also the author of the Simple Guide to Over-the-Air Free TV and the Simple Guide to Sling TV as well as the avid deal-seeker behind SavvySleuth.com, where she scours the web for the best online deals.