Still thinking about becoming a cord cutter? Need some help finding out how you can ditch the high monthly bills and long-term contract? The good news is Mohu can help with the Untangle.TV cord cutting guide. We can walk you through step by step to make sure you never miss a show.
The following is a quick guide on how to get started on the path to becoming a cord cutter.
Step 1 – Preparing to Cut the Cord
The first thing you need to do is figure out what you want and what you already have. That means literally sitting down and make a list of what shows and/or channels you and your family members like most.
From there, I suggest you comb through your initial list and decide which of these shows and channels you actually watch on a regular basis. What shows can you not live without? Just get out some pen and paper and only put the shows you really must have. After all, the average cable subscriber pays for about 200 channels yet watches fewer than 20 of them. Chances are, the amount of TV content you actually view is much less than you may think at first glance.
Next, write down all the streaming services you already subscribe to. For example, Netflix, Amazon, etc.
Finally, write down any hardware you already own, like streaming devices that have apps such as Netflix, as well as if you already own a TV antenna.
Step 2 – Figuring Out How to Cut the Cord with Untangle.TV
The next step now that you know what you want and what you have is to head over to Untangle.TV, a free service that will help you find the shows and channels you are looking for.
Basic Info
Untangle TV will walk you through a quick step-by-step guide to finding the shows you want. First, it asks you a few details about yourself like your zip code (for determine potential over-the-air networks in your area, if you watch those), how comfortable you are with technology (do you want a simple plug & play solution or fancy features), and if you're more of a bige-watcher or prefer watching TV live.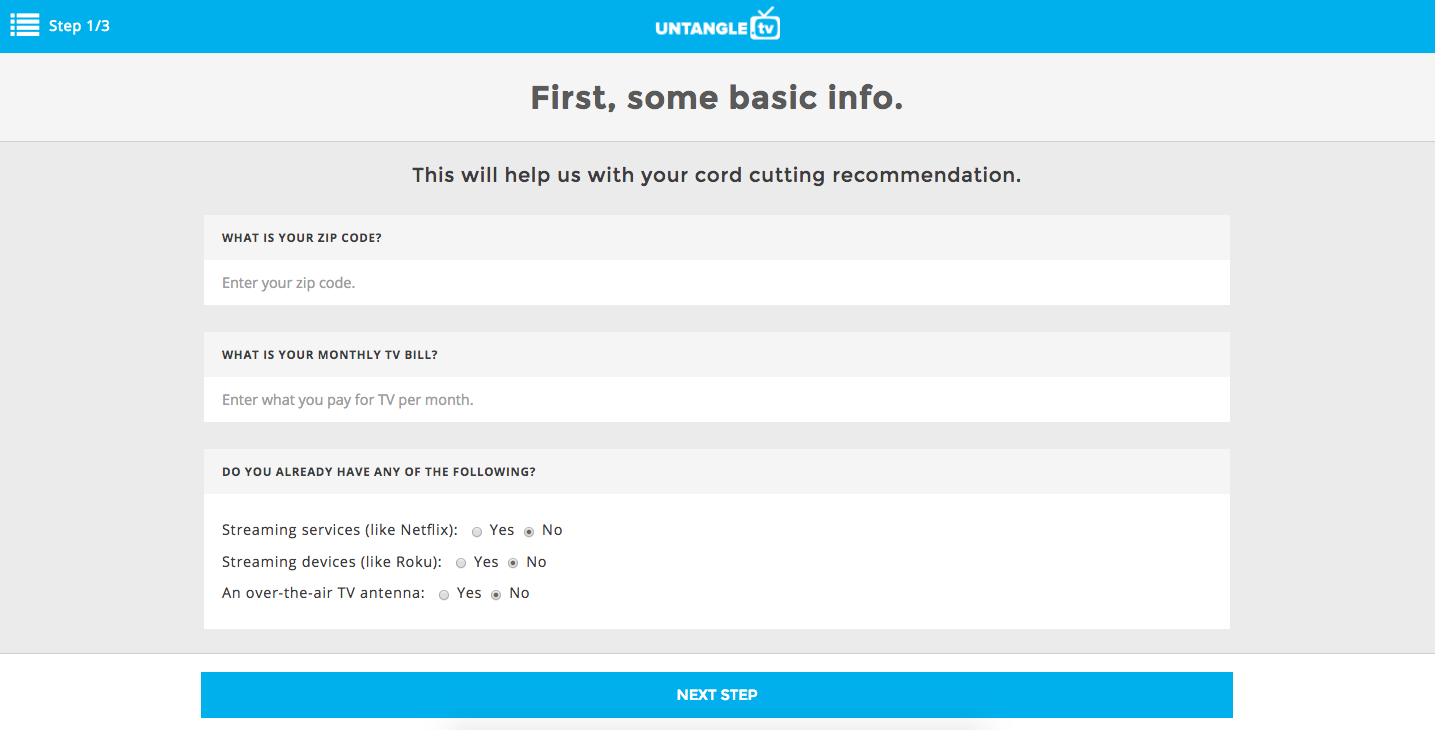 What You Watch
Your homework in Step 1 comes in handy for the rest of the process. You tell Untangle.TV what device(s) you already own, and then the fun part – you tell the app what shows and channels you watch. You can select from a list of popular shows, channels, and sports. You can also search for any others that you don't see on the list.
Generating Your Cord Cutting Package
Once you've made your selections, click "Next Step," and within seconds, Untangle.TV will generate your customized cord cutting package. At a glance, you'll see which devices (antenna, streaming stick and/or streaming box) and which services you should get in order to watch all the content you want to watch.
Monthly Savings Compared to Current TV Bill
Untangle.TV will also calculate your estimated monthly savings of your cord cutting package compared to your current cable or satellite bill.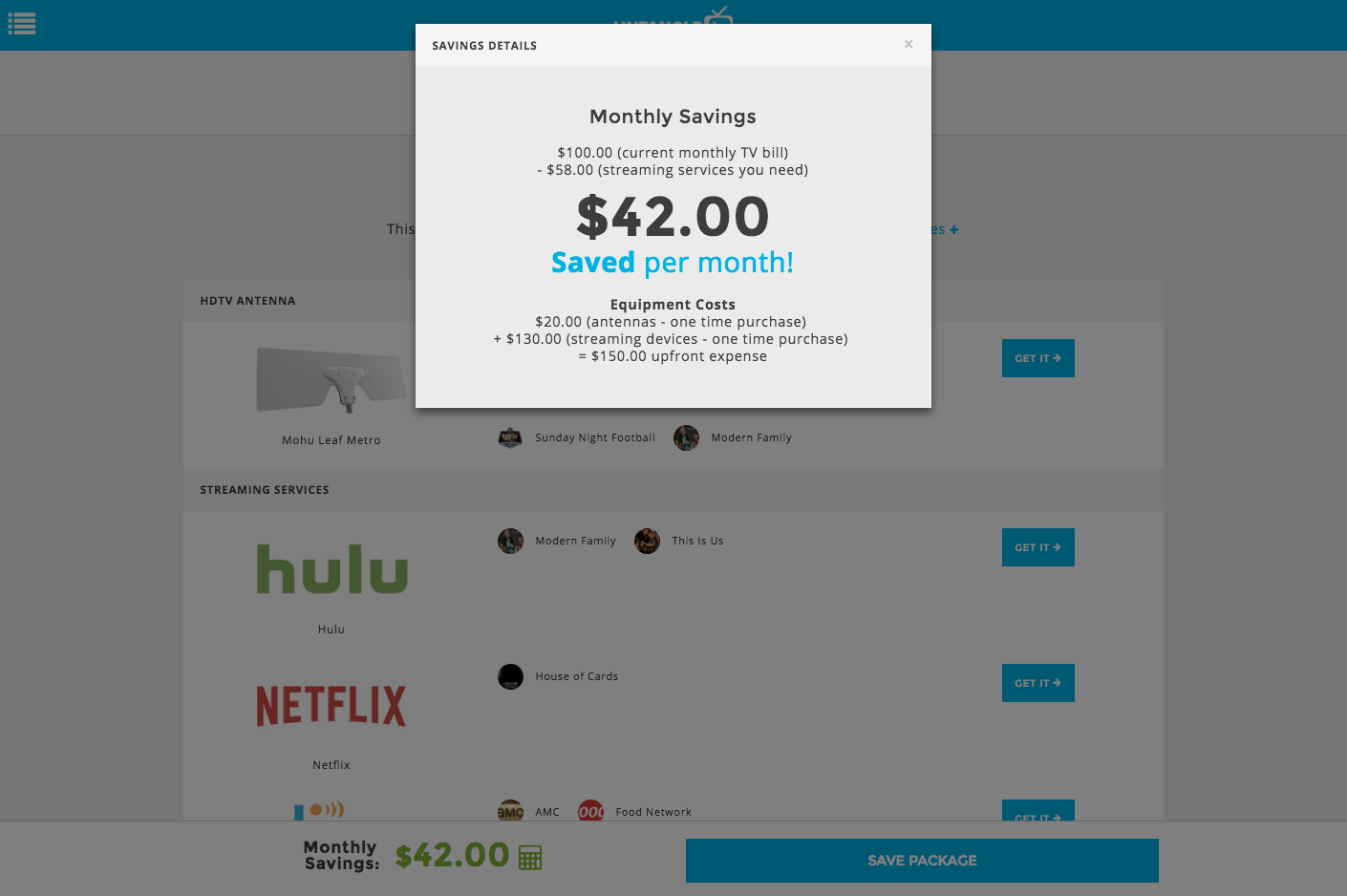 You may also see Money Saver Tips that highlight if one of your selected shows requires you sign up for a separate streaming service for that single show. You then have the option to keep the show or remove it, depending on how important that show is to you or your family.

Step 3 – Actually Cutting the Cord
Try Before You Buy
Now that you have your personalized cord cutting package, your next step is to sign up for the recommended streaming services. Luckily for prospective cord-cutters, nearly every service out there offers a free trial of some sort (usually 7 days, sometimes up to a month).
One thing to note is that some of them do require you input credit card information, so you may want to set a calendar reminder for one week from sign-up to cancel if you aren't satisfied so you can avoid being charged for a service you don't want to keep.
You'll also want to purchase any necessary equipment. If your package includes an antenna, Mohu offers a 30-day money-back guarantee. If you buy the recommended antenna and for any reason aren't satisfied within the first month, you can return it for a refund. Most stores offer similar policies for any other equipment you might need per your recommended package.
Saying Goodbye To Your Cable (or Satellite) Company
And finally, after your first week or so with your cord cutting setup, if you're totally satisfied, pick up the phone and call your cable company. They will likely try to smooth talk you into staying (and every now and then you'll get an offer too good to pass up), but if it's freedom and flexibility you want, hold strong and tell them goodbye. If you need some help with taking that step, there are a number of helpful resources available (and if you aren't satisfied with the price they offer you for Internet only, you can use this tool to compare Internet Service Providers in your area).
Here are some of the major pay TV companies and links to their contact information for calling to cancel. It's frustrating to have to make the call, but that's a big part of their problem – poor customer service
Now that you know how easy it is, why not get started?