Tom's Guide has spent countless hours testing indoor and outdoor TV antennas to help determine the best of the best and help save you money. The Tom's Guide reviewers combined careful testing and hands-on evaluation to find the best TV antennas on the market, from indoor to outdoor to amplified models. And we are absolutely thrilled to see that our Mohu Leaf Supreme Pro was named the best overall TV antenna!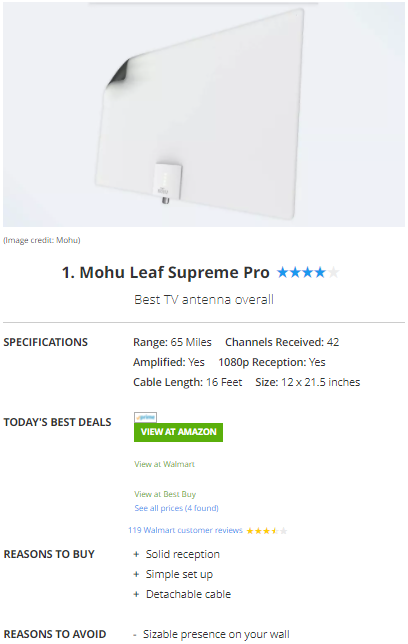 "The best TV antenna overall is the Mohu Leaf Supreme Pro , which combines that basic flat mudflap design with an extra wide profile and a built-in built-in amplifier to boost the number of watchable channels. An integrated signal strength meter even helps you find the spot for best reception."
The Mohu Leaf Metro was also named the Best Budget TV Antenna.
"A longtime favorite of ours is the Mohu Leaf Metro, a compact TV antenna that has an unobtrusive flat design that's smaller than most inexpensive antennas, yet pulls in channels with solid, dependable reception. It's not amplified, but with a 25-mile range capable of pulling in dozens of channels in cities and nearby suburbs, it doesn't need to be. The small size and city-friendly reception make it great for urban apartment dwellers, and the Mohu Leaf Metro lives up to its name. If you want the most affordable option for over the air channels, this is it."
A big thank you to the brilliant people over at Tom's Guide who have done the heavy lifting of testing these TV antennas to help you make the best decision!
You can check out the "The Best TV Antennas of 2021: Tested and Rated" HERE. As always, if you need help determining the best TV antenna for your location, contact our customer service at 877-825-5572 or chat with them live on our website!