The 2016 Consumer Electronics Show is in the books, and it was packed full of great new products—from smart TVs to smart washers that will automatically order laundry detergent when you run low—CES had it all.
There were a ton of cord-cutting products—from new smart TVs and streaming players to better ways to stream 4K content. Overall for cord cutters some of the biggest news were OTA TV and DVRs made for cord cutters.
Over-the-Air TV
4K is still mostly just streamed or available on Blu-ray, but for the first time at CES an over-the-air broadcast was made in 4K. I was able to see the broadcast, and it looked amazing. Although little is known about how they ran the test, they are pushing the idea that by the end of 2016 stations around the United States will start to stream in 4K.
While there is a good amount of 4K content out there, broadcasters have been very slow to pick up the 4K standard. OTA could be the first live use of 4K most consumers will see.
Over-the-Air DVRs
The impact of cord cutting has never been more evident at CES than the rush to release new over-the-air DVRs for cord cutters. Everyone seemed to have some kind of update to their DVR or a new DVR aimed at cord cutters.


Tablo has for a long time been a huge cord cutting company. Their whole home DVR allows you to watch live TV and DVR content away from home, making it a great stand out.
Now Tablo is coming to the new Apple TV, allowing you to watch live TV and your recorded shows right from your Apple TV. No longer do you need to switch sources on your TV to find shows or movies you recorded—it's all right there next to your iTunes and Netflix content.

The Channel Master DVR is well known as the subscription-free DVR option for cord cutters. No need to pay a monthly fee to get access to your channel guide. Now Channel Master and Sling TV have teamed up to bring you over-the-air TV, recorded shows, and Sling TV all in one box. You can watch your local football game on ABC and switch over to Sling TV to see what ESPN is showing.
The addition of Sling TV makes Channel Master a very tempting device for anyone looking for a DVR and Sling TV. The only thing you'd need to add is a TV antenna.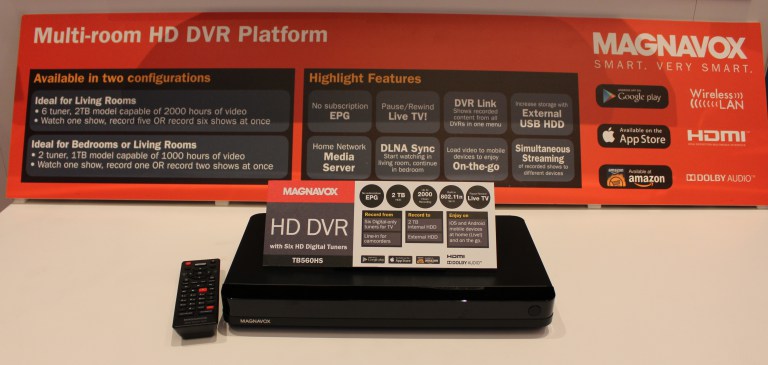 You may remember Magnavox from your old tube TV but now they are coming back as your cord cutter friendly company. Their new line of DVRs coming out in late 2016 will not only give you a very powerful DVR but also a free channel guide.
Maybe the big selling point of the Magnavox DVRs will be the ability to download shows and movies from your DVR to a tablet to take them with you. Traveling overseas or on a plane? Now you can take your recorded content with you.
CES 2016 was another big event for cord cutters, and we have likely just started to scratch the surface of all the great things coming out for cord cutters this year.