For the last five years, the Super Bowl has been the most watched sporting event in US history. Last year, when the Seattle Seahawks blew out the Denver Broncos 43-8, over 111 million people tuned in.
Whether it's for the commercials or the athletic spectacle, there's no denying that the Super Bowl is a cherished American tradition.
This year's Super Bowl will pit the defending champions, the Seattle Seahawks, and against the New England Patriots. Although the Seahawks will have the home field advantage, Patriots coach Bill Belichick is no stranger to winning Super Bowls having coached the Patriots to three Super Bowl victories in his career.
Win, Lose, or Draw; it's going to be one game for the ages.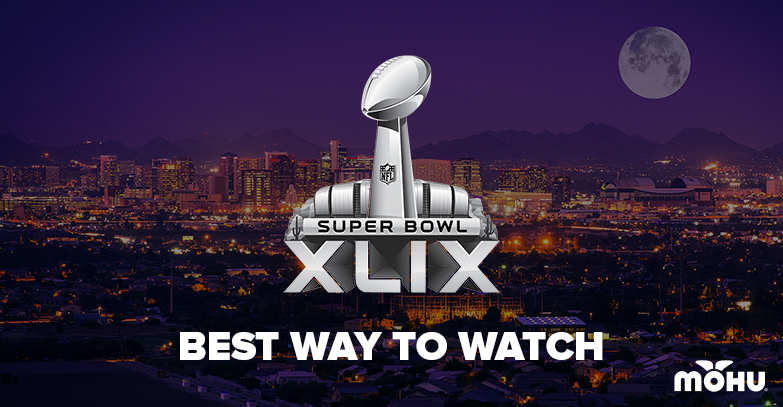 If you're thinking about ditching cable or you're new to cord cutting, you may wonder what the best way to catch Super Bowl XLIX is. While cable gave you too few options, sometimes cord cutting can give you too many options.
Between streaming apps, antennas, and subscription services, it can be hard to know what the best choice is; but don't worry, I've got your back.
Hands down the best way to watch Super Bowl XLIX is through the use of an Over-the-Air (OTA) antenna. In 2009, all broadcast networks (ABC, NBC, CBS, FOX, and CW) switched from analog to digital broadcasting. This new signal required a new antenna, and hence the digital OTA antenna was born.
OTA antennas are relatively cheap, costing around $30-$50. Personally, I would recommend the Mohu Leaf. It costs $40, it's omni-directional, and it's only slightly larger than an iPad, yet paper-thin. To quote CNET, "the Leaf works like magic"
Now, Super Bowl XLIX will air on NBC at 6:30 PM EST on February 1st with the pre-game festivities beginning at noon ET. As previously mentioned, NBC is a broadcast network, which means you can pick up the Super Bowl for FREE using an OTA antenna.
While there are many ways to watch Super Bowl XLIX, none are quite as good as using an OTA antenna. Here are 3 reasons why OTA is the best way to watch Super Bowl XLIX:
1) OTA is simpler than streaming
Although you can stream Super Bowl XLIX online at NBC.com  easy enough, odds are you won't be alone; and no one wants to crowd around a laptop for four hours. Even if your computer can hook up to the TV, it's still more steps than you want to take.
With an OTA antenna, all you have to do is plug it in and turn on the TV. That's it.
2) OTA offers better picture quality
While many internet providers boast fast download speeds, most never deliver fully on that promise; and for many, HD streaming is a forgotten promise akin to flying cars or meals that come in pill form. And compared to cable and satellite (which is the worst offender), the digital over-the-air picture is by far the least compressed video feed. That means with an OTA antenna you can pick up true 1080i HD picture for free. No lag, no throttling, no grainy picture.
3) OTA offers more entertainment once Super Bowl XLIX is over
As much as we would love football season to continue in perpetuity, it has to end sometime. You could stream Super Bowl XLIX, see it in a bar, or go over to a friend's house; but then what?
After the game, you're still missing your local channels and the latest in network television.  An OTA antenna is not free, but it's an incredibly low-cost investment in an ongoing future of free TV. As the years roll on, you'll be happy you got one.
Catching the Super Bowl this year is surprisingly easy. You don't need any proxy or VPN or $200 for some fancy subscription service. All you need is an antenna, a TV, and a comfortable place to sit.
In a time where nothing is ever black and white, and something always comes with a catch, it's nice to know that some simple traditions seldom change.
Dave Kennedy is a long time cord cutter who became increasingly frustrated with the high cost of Cable TV and decided to make a stance. In 2011 he launched KilltheCableBill.com, a site dedicated to helping people save money through providing simple, cost-effective cable TV alternatives. Since then, David has helped 1,000s of people cancel their cable subscription while keeping the shows they love.