Enjoy the following guest post from the cord cutting expert behind CutCableToday.com, Chris Brantner.
Just last week I sent out an email to my list inviting readers to ask me all their cord cutting questions. Before I knew it, my inbox was quickly overflowing with question after question asking about the nuances of cord cutting. Makes sense: it's a whole new, confusing world for those used to paying a cable company to handle all their programming needs.
But I was surprised that the number one question wasn't actually about how to find programming without cable. Instead, it was about internet service.
"Do I need broadband internet? And if so, how do I save on it?"
Great questions. Let's take a look at the issue of internet for cord cutters to learn what's necessary and how to obtain it for a decent price.
Do Cord Cutters Need Internet Service to Watch TV Shows Online?
If you're planning on watching a significant amount of television online, you'll need solid internet service. So the question becomes, how can I get that service without paying an arm and a leg?
The number one way to save on broadband is to find and compare prices. I've actually installed a search engine on my site to help simplify the process. Just visit the page and enter your Zip Code. From there you'll receive a list of Internet Service Providers (ISPs) in your area, along with their phone numbers. Call and ask for Sales to speak to them about their standalone internet promotions.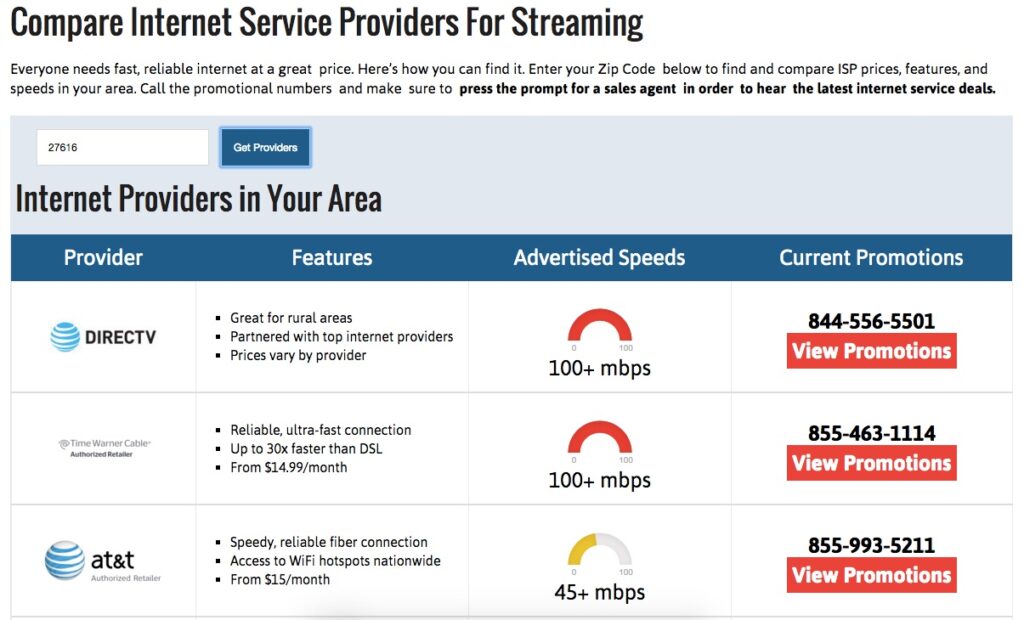 Once you've acquired details on promotions for all the ISPs in your area, you can make an informed purchasing decision. In fact, you may even be able to use the information to negotiate a lower rate with your chosen provider. It doesn't hurt to ask – many people don't realize that prices are rarely set in stone.
All that said, Verizon Fios is my top recommendation for internet. Netflix continually rates it as the fastest ISP, and they typically offer pretty good promotions that don't necessarily require you to sign up for a bundle. A big downside is it's only available in select areas. If you're lucky enough to live somewhere that Fios services, definitely take a look at it.
Can You Stream Using Data from Your Wireless Provider?
Streaming video uses up so much data that if you try to stream just using your cellular plan, you'll burn through your data in no time.
To give you an idea, one hour of streaming video in standard definition will use up about 1 GB of data. Streaming in HD will use around 3 GB per hour. And if you're looking to stream in 4K, expect to use about 6 GB of data per hour. As you can see, your allotted data won't last long.
However, T-Mobile recently came out with an app called Binge-On that allows you to stream unlimited content from select streaming services without counting against your data plan. It's hard to say if apps like this will become a trend, or if T-Mobile will be the only one offering such a deal. But it seems to be a reasonable option for someone looking to stream on their mobile device and can subscribe to T-Mobile.
You Don't Need Internet Service for Free OTA Television
Of course, if having access to the big networks like FOX and CBS is all you require, then you might be able to get away without paying the cable company for internet service. When you use an antenna like my personal favorite, the Mohu Leaf 50, the TV you get is absolutely free and doesn't require an internet connection. Or if you do a little streaming to supplement OTA TV, you can get away with a slower, lower-cost internet option.
The only exception would be if you want to use an OTA DVR like the Tablo to record your television. You'll need an internet connection to receive data for the live programming guide, as well as to stream your recorded programming to other devices in your home.
But if that's not a necessity for you, you could probably get by with just using internet from your phone to handle emails, light web surfing, etc.
The bottom line: as with all things cord cutting, your viewing habits will dictate the pieces you need to build your ideal cord cutting setup. For most (but not all) people, that includes broadband internet. For more information on how you can save money on broadband internet, you can check out this guide I wrote for The Houston Chronicle.