Over the last year the debate of how trusted news is has been growing. With allegations of fake news and bias flooding the conversation, it is no surprise that local news is the most trusted option.
A recent study from Videa reported that 61% of Americans find local news was the most trustworthy. From that, 59% said that local TV stations were their main source of local news. The best part is local news is available to the vast majority of Americans 100% free with an antenna.
61% of Americans feel local news is the most trustworthy new source
With most news options going behind pay walls such as many major newspaper websites, it is nice to see that local TV is 100% free with an antenna. This makes an antenna a must-have for any news fan.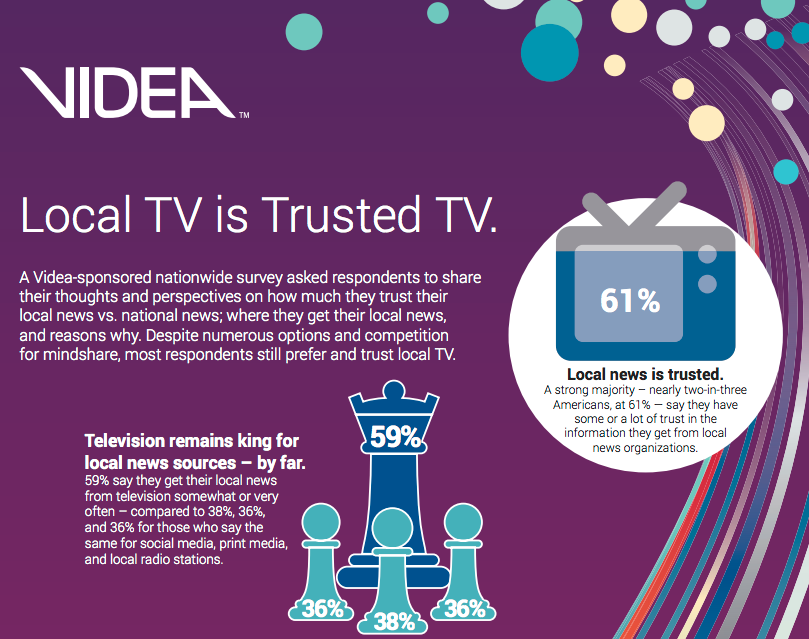 View full infographic: Nationwide_Videa_Local_News_Study
What news can you get with an antenna?
Not only do you get your local news, but you can also get national news from ABC, CBS, FOX, NBC, PBS, and Univision.
And not only do you get news broadcasts throughout the day, but you also get access to major news events. Most local channels will carry events such as the State of the Union address and conventions.
However, the benefits of an antenna do not stop at news. You will also get access to live sports, prime-time programming, and a wide range of content.
More Free News Sources for Cord Cutters
If you want even more local news content, check out NewsON as a way to stream 100% free live and on-demand local news on Android, iOS, and Roku.
Also check your favorite local affiliates' websites to see if they offer additional ways to view their local content. For example, the local NBC affiliate in Raleigh, NC (Mohu's home turf), offers a free app on Roku and mobile platforms that streams live and on-demand content.
In this day and age of higher costs and hidden fees, it is always great to see a trusted service such as local news is still free.
Need help finding what locals you can get with an antenna? Check out Mohu's channel finder to help you see what type of antenna will get you what stations.