Sometimes the difference between keeping your cable subscription and cutting the cord comes down to the small things you have grown accustomed to. Some people like the ability to simply watch whatever's on (channel surfing), while others like the ease with which they can catch their favorite shows, and everyone I know loves their DVR; everyone.
The DVR is like the internet in that we often wonder how we ever got along without it. Although the beauty of cord cutting is that you can stream content whenever you want; many people are hesitant to give up cable because they enjoy using their DVR to record live television specials that would be otherwise unavailable for streaming. For example: you can probably find Season 4 of "Grey's Anatomy" online, but the odds are slim for the "State of the Union Address" or this year's "Super Bowl" making it to Netflix anytime soon.
What most people don't realize is that they don't have to choose between cutting the cord and recording live programming with their DVR. Well, obviously the cable company won't let you keep their DVR, but you can most certainly replace it with your own.
Over-the-Air DVR
When it comes to over the air (OTA) DVRs, there are two routes you can take. Most store bought DVRs will plug into your television as easily as a Roku or Apple TV would and can range in price from $50 to $350. However, unlike Roku and Apple TV, you will have to pay a subscription fee in order for your DVR to access a channel guide.
And without a channel guide, your DVR will not know where and when to record your favorite shows. Subscription prices range from $5 to $15 monthly. If you want your DVR experience to be simple and hassle free, the benefits of owning a store bought OTA DVR will outweigh the cost of the subscription.
Build Your Own OTA DVR
If you're like me and you don't mind the extra work to save a few dollars, then you might want to build your own DVR. Don't worry, it isn't as complicated as it seems. The only thing you need is a PC, an over-the-air antenna, and a TV tuner card. But what is a TV tuner card, you ask?
A TV tuner card is the peripheral device that allows you to record over the air broadcasts from your computer. There are four different types of TV tuner cards you will need to choose from: Internal, External USB, External CardBus slot/ExpressCard slot, and Network Ethernet connection. Once you install your TV tuner card, and you make sure it has a connection with your antenna, your PC can then be used as a DVR. Most tuner cards will be in the $30-$60 range, so they should be pretty affordable for even the tightest of budgets.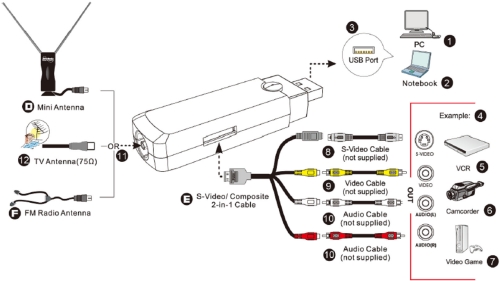 If you don't mind doing a little tinkering and research, building your own OTA DVR is definitely worth it. Not only will you have the satisfaction of doing something for yourself, but you'll also have saved potentially hundreds of dollars in the long run.
Cut Cable Without Cutting Content & Convenience
A lot of people are reluctant to give up their cable subscription because there are a lot of unknowns: how will I watch my favorite shows, what kind of devices will I need, how will I record certain broadcasts, etc…
However, once you take a step back and do a little research, it becomes abundantly clear that cutting the cord is a lot easier than you ever thought. Don't be stuck unnecessarily paying thousands of dollars to cable companies every year; take the leap and start saving money today!
Dave Kennedy is a long time cordcutter who became increasingly frustrated with the high cost of Cable TV and decided to make a stance. In 2011 he launched KilltheCableBill.com, a site dedicated to helping people save money through providing simple, cost-effective cable TV alternatives. Sine then, David has helped 1,000s of people cancel their cable subscription while keeping the shows they love.