The Early Days of Sling TV
On January 5th, 2015, Dish Network introduced an all-new streaming television service –  Sling TV.
One month later on February 9th, 2015 a beta offering of the Sling TV service went live to the public. It was met with mixed reviews.
Problems with glitchy or dropped playback and limited channel offerings, scared off some initial subscribers.  Despite Sling's budget-friendly price and novelty, it was slow to take off.
Sling TV Today
Thankfully, two years later Sling TV is stronger, faster and it continues to grow in content and subscribers.
In 2016 Sling TV added many new channels and on-demand content. There was some repackaging of its channel offerings too with the Orange, Blue and Orange + Blue "The Best of Live TV" channel packs.
All subscriptions remain no-contract with the option to cancel at any time. The free 7-day Sling TV trial for new subscribers also continues. Promotions providing limited time previews of channel add-ons are offered fairly frequently.
Today I believe Sling TV is a savvy choice for cordcutters who want to supplement their over air TV programming with streaming live TV. It's also a great option for cordnevers who tend to prefer viewing their television programming on laptops, tablets, smartphones and streaming media boxes.
This year Sling TV's Cloud DVR function is in beta testing and will likely be added to Sling TV feature options in the near future.
Subscribing To Sling TV
I've subscribed to Sling TV since the beginning. When I did, I received a free streaming device as a perk for signing up.  If you're interested in subscribing, Sling still has deals for new subscribers which are found at the bottom of their homepage under "Get Deals".
I added this streaming TV service to my cordcutting experience to supplement the free over air TV channels I get with my Mohu Leaf 50 Indoor Amplified HDTV Antenna.  I use my Amazon Fire TV or Roku with Sling TV apps to watch content at home, and I watch Sling TV on my iPad when I'm on the go.
Subscribing was a simple online process that took less than three minutes to complete. From there it was just a matter of logging in after adding the app to the devices I wished to use to view the service.
I like that I can log into my Sling TV account at any time and make adjustments to my service. Add on channels, change channel packages, update my email, change my credit card information or cancel at anytime.
The Help Center provides a video library of helpful "How To" topics as well as a convenient way to report an issue with the service.
Sling TV Packages
This is a brief rundown of Sling TV's Orange, Blue and Orange + Blue channel packages.
Be aware that you can customize your experience by selecting channel add-ons including premium movie channels, international programming and more.
Sling Orange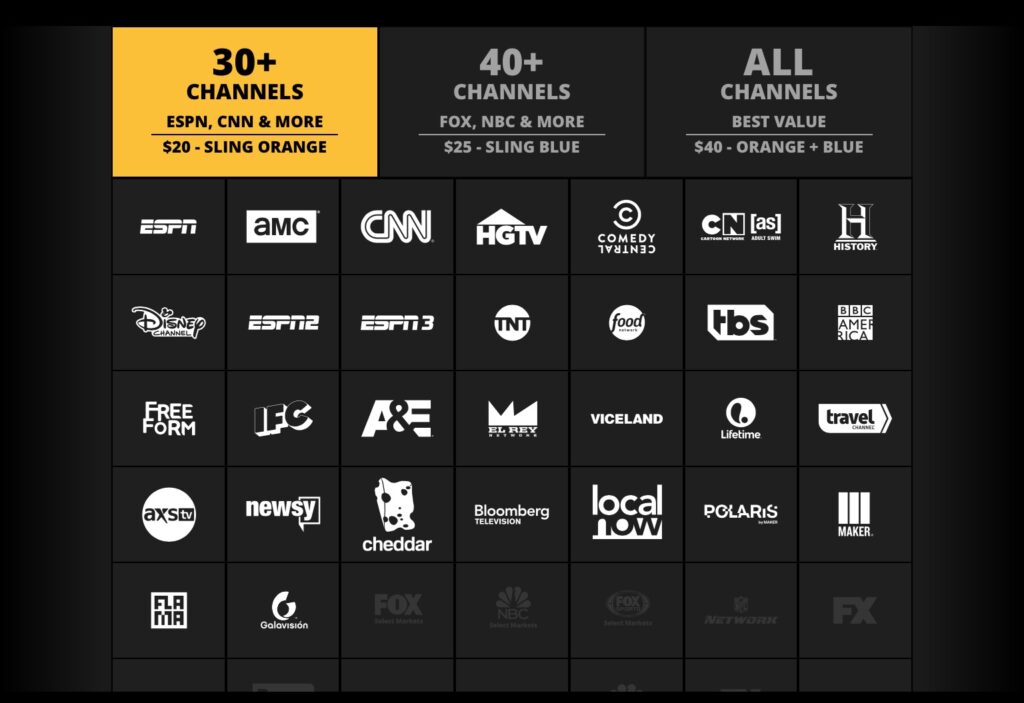 The $20 per month Sling Orange option is a single stream package with over 30 channels. It's the same one you get when you sign up for the Free 7 day trial.  It offers some solid entertainment, sports, lifestyle and news options and is designed to whet your appetite for even more!
Orange has a solid line-up for sports-lovers with ESPN, ESPN2 and ESPN3 channels. Lifestyle channels HGTV, Food Network, Lifetime and Travel Channel and kid-friendly channels TBS and Disney Channel are also in this package.
My daily go-to channels in this package are the History Channel (American Pickers), IFC (Portlandia), and CNN.
Sling Blue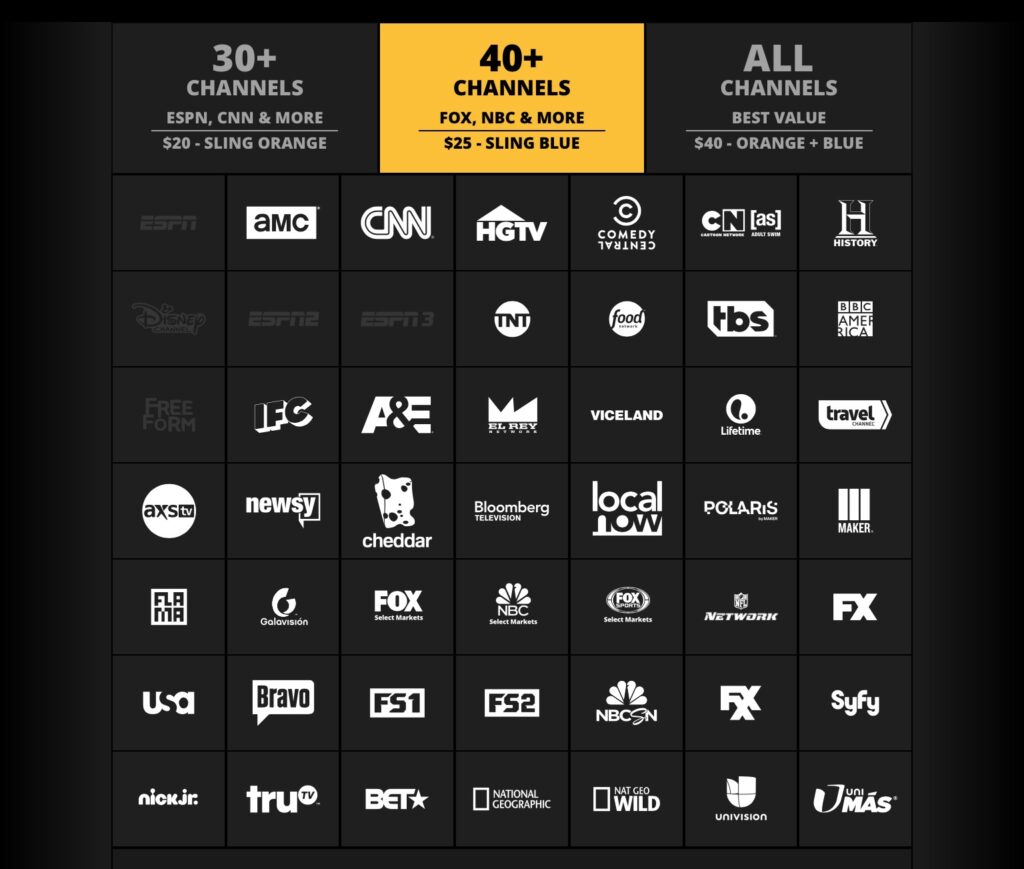 The $25 per month Sling Blue package has over 40 channels and offers multiple streams. It also provides viewers with some local programming in select markets.
I like the addition of the National Geographic Channel, FX, BET, the NFL Network and the FOX Sports channels (FS1, FS2) among others. However, you do lose ESPN unless you opt for the complete Orange + Blue package (see below).
Truly I think the ability to stream to more than one device makes that additional $5 a month well worth it.
Orange + Blue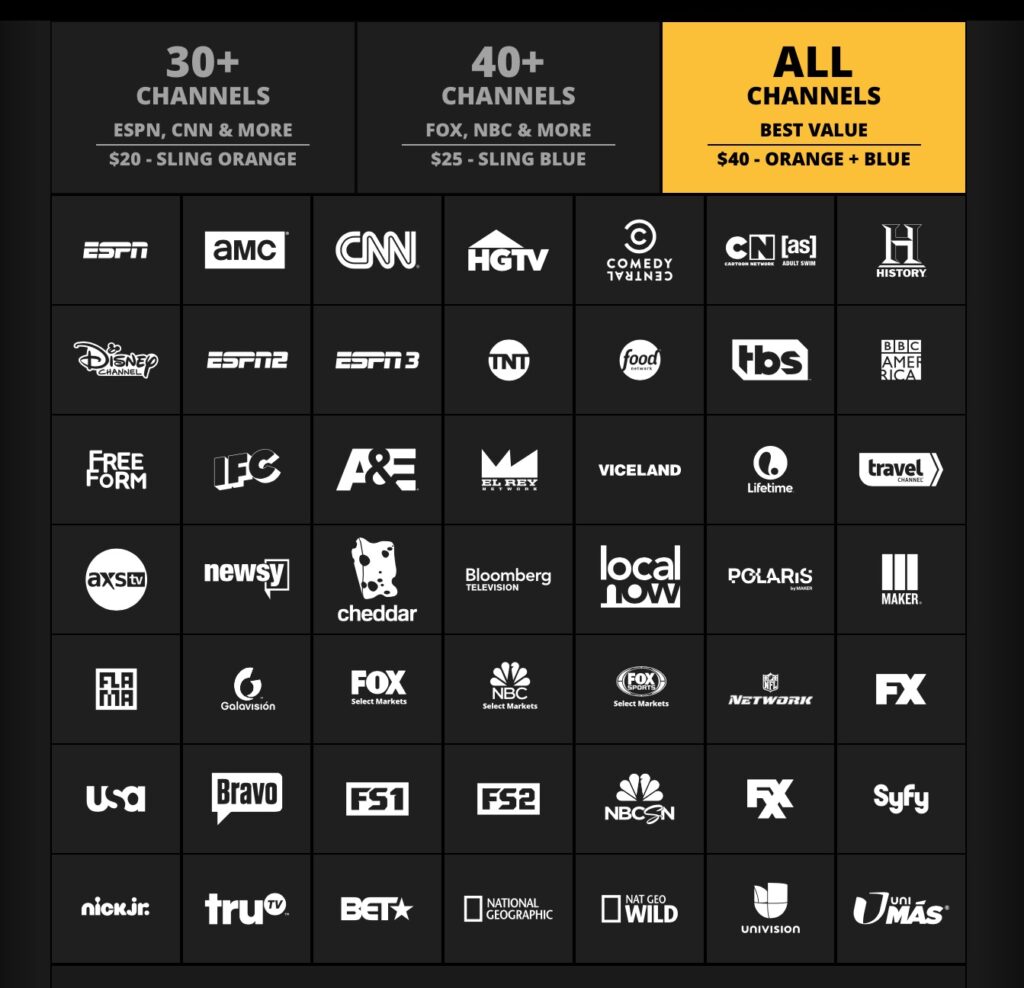 Like the name implies, you get all the channels found in both the Orange and Blue in this package. You also retain the ability to stream to multiple devices for a discounted bundle price of $40 a month.
It should also be noted that with all the Sling TV packages you can add-on more channels in English or Spanish.
More sports, comedy, movies, news, lifestyle, kids programming and music. Add-on packages can easily be added or removed as desired. More on these add-ons coming soon…
Is Sling TV Right for You?
If you're still not sure if Sling TV should be part of your cordcutting plan, check out Untangle TV. You'll answer a few easy questions and get a personalized cordcutting recommendation. Use the info to find your way to cordcutter satisfaction and savings!