As you may have noticed, we're pretty passionate about cord-cutting here at Mohu. Not only are we personally avid cord cutters, but we love helping friends, family, and strangers alike find ways to continue to enjoy the TV they love in a convenient and affordable way – no cable or satellite needed.
But we recognized that even though 54% of Americans have considered cutting the cord, there are still millions of people bound to ever-increasing pay-TV subscriptions. And it's certainly not because they love their pay-TV providers. After all, cable companies continue to rank at the bottom of customer satisfaction surveys year after year.
After conducting and reviewing scientific surveys, talking to friends and family, hearing from folks on our social media channels, etc., we came to the realization that while cutting the cord is a no-brainer, figuring out how to actually do so can be a headache. That's why we created Untangle.TV (you can check out our official announcement here).
Deciding to cut the cord is a no-brainer. Doing so can be a headache. Untangle.TV helps solve that.

[twitter_share_btn link="http://www.gomohu.com/blog/mohu-news/untangle-tv/" text="Deciding to cut the cord is a no-brainer. Doing so can be a headache. Untangle.TV helps solve that."]
What is Untangle.TV?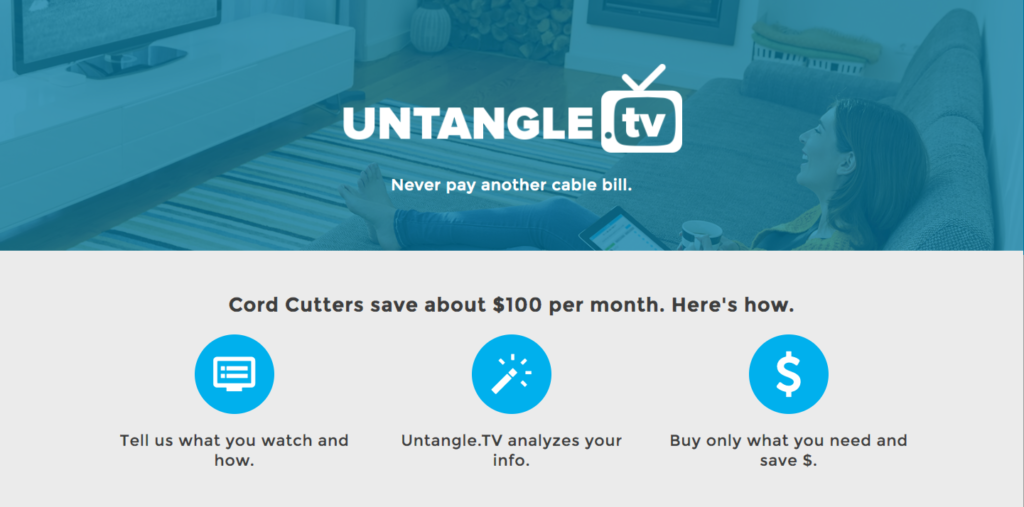 Untangle.TV is the first online application that shows users how to cut the cord. It analyzes prospective cord cutters' viewing behaviors to recommend a custom mix of over-the-air (OTA) and over-the-top (OTT) devices and services needed to watch the TV they prefer at a cost they control.
How does Untangle.TV work?
Well, quite simply, you answer a few short questions like are you budget conscious or do you prefer a feature-rich experience, are you more likely to watch your shows on-demand or live as they air? And most importantly, we want you to tell us all the TV shows and channels you love to watch. From there, Untangle.TV goes to work, compiling a custom recommendation of which streaming services and device(s) will let you watch what you want to watch.
We also offer money-saving tips. For example, you might think you can't live without a specific show or channel, but maybe you realize that you don't actually watch it as much as you think. Or maybe you prefer to watch a show as it airs so that you can Tweet about it with friends while you watch… Untangle.TV gives you control to decide what and how you want to watch your shows.
Once you've got your recommended package to your liking, you can see a breakdown of your monthly savings (services) compared to your current pay-TV bill along with your one-time costs (devices).
If you're not ready to hit the ground running with your recommended package just yet, you can have your results emailed to you to reference later.
Untangle.TV – Never pay another cable bill.